The Ιnstitute for Privacy Law, Data Protection and Technology (IPL) of the European Public Law Organization and the German Marshall Fund of the United States successfully organized a scientific event – roundtable discussion on Tuesday, November 13, 2018 on "Cyberspace and Security – State behavior and the application of international law" at the premises of the European Public Law Organization in Plaka, Athens,Greece.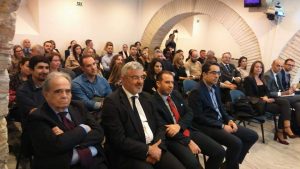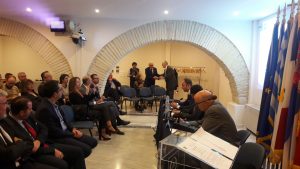 The highly esteemed speakers addressed their very interesting presentations as follows:
Mr Bruno Lété, who is a Senior Fellow of security and defense at the German Marshall Fund of the United States in Brussels, presented his study on «Shaping responsible state behavior in Cyberspace» highlighting the main issues and topics for discussion while presenting the main conclusions of the study, and
Dr Konstantinos Moulinos, who is an Information security expert at the European Union Agency for Network and Information Security (ENISA), presented the role and contribution of ENISA to the Network and Information Security Directive (the NIS Directive).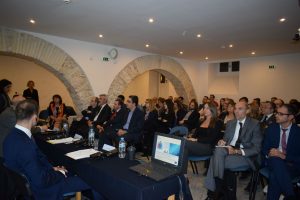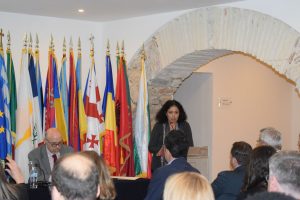 Professor Lilian Mitrou, who is the President of the Institute for Privacy Law, Data Protection and Technology and Professor at the University of the Aegean at the Department of Information and Communication Systems Engineering, commented on the presentations and their conclusions and coordinated the event as well as the fruitful discussion that followed.
Professor Spyridon Flogaitis, Director of the European Public Law Organization, addressed a welcome speech on behalf of the EPLO.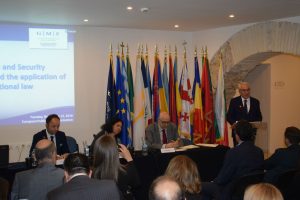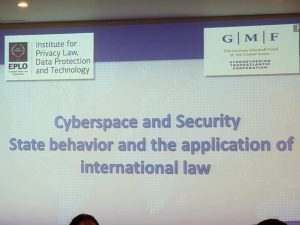 We were also honored to have among our esteemed audience the MP Mr Ioannis Theofylaktos representing the President of the Hellenic Parliament, Mr Nicolaos Voutsis, H.E. the Esthonian Ambassador in Athens, Mr Priit Pallum, the former General Secretary of the Ministry of Justice, Transparency and Human Rights Mr Konstantinos Dailianas, the Experts – Counselors of the Ministry of Foreign Affairs Mr Athanassios Kotsiris, Mr Efthymios Tziokas, Mr Christoforos Panos and Mr Dimitrios Kalamas Avouris, the Data Protection Officer of the Ministry for Digital Policy Mr Athanassios Kosmopoulos,  the Associate Professor of the Department for International and European Studies of the University of Piraeus Mr Andreas Liaropoulos, the Deputy Director of the Informatics Lab of the Law School of the University of Athens Mr Alexandros Varveris, the Attorney-at-Law and President of the  Hellenic Association for Data Protection and Privacy Mr Spyros Tassis, the Vice President of the Greek Union of Computer Engineers and Secretary General of the "eTEE – Informatics & Communications Department» of the Technical Chamber of Greece, Ms Ioanna Sabrakou, as well as many other distinguished guests such as legal professionals, informatics scientists, public service executives etc.